Who is Estleman?
Interested in more about the
man behind the words?
CLICK
What does
Estleman write?
MYSTERIES
AMOS WALKER SERIES
VALENTINO SERIES
PETER MACKLIN SERIES
DETROIT CRIME SERIES
OTHER CRIME FICTION
WESTERNS
PAGE MURDOCK SERIES
STAND-ALONE HISTORICAL
WESTERNS
OTHER WORKS
NONFICTION
What else can be found on this site?
AWARDS
LIST OF WHAT WON WHICH
BOOKS
COMPREHENSIVE LIST
SPATTERS
BITS & PIECES
[ news ]
Estleman received another lifetime achievement award,
this one from the Private Eye Writers of America.
The award, named The Eye, was presented during
the Albany, NY, Bouchercon, October 2013
Estleman received the Western Writers of America
Owen Wister Award for lifetime achievement
during the WWA convention's Awards Banquet
in Albuquerque, NM, on June 16, 2012

[ new books ]

June 11, 2013
THE CONFESSIONS OF AL CAPONE
[ From Forge Books ]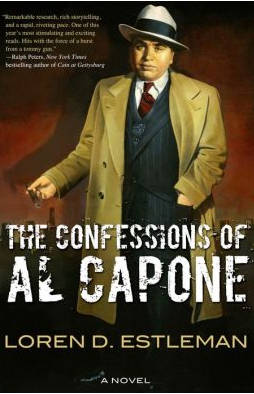 From the Publishers Weekly Review:
Edgar-finalist Estleman (Burning Midnight) presents a nuanced and compelling fictionalized portrait of the best-known gangster of them all, Al Capone. In 1944, J. Edgar Hoover pulls Peter Vasco off a desk job for a special undercover assignment. Capone is in Florida, dying of syphilis, and Hoover hopes the right person can get information from him that would enable the bureau to make cases against successors to his criminal throne. As Vasco's father was acquainted with the mobster from a long-ago incident, the young investigator is tapped to pose as a priest and work his way into Capone's inner circle to elicit what useful information he can. The book alternates between third-person description of Vasco's efforts and a convincing first-person narration by Capone as he shares some of his secrets. Estleman captures his lead's ambivalence at deceiving others for a greater good perfectly, and the directions the plot takes aren't always foreseeable.
Agent: Dominick Abel, Dominick Abel Literary Agency. (June)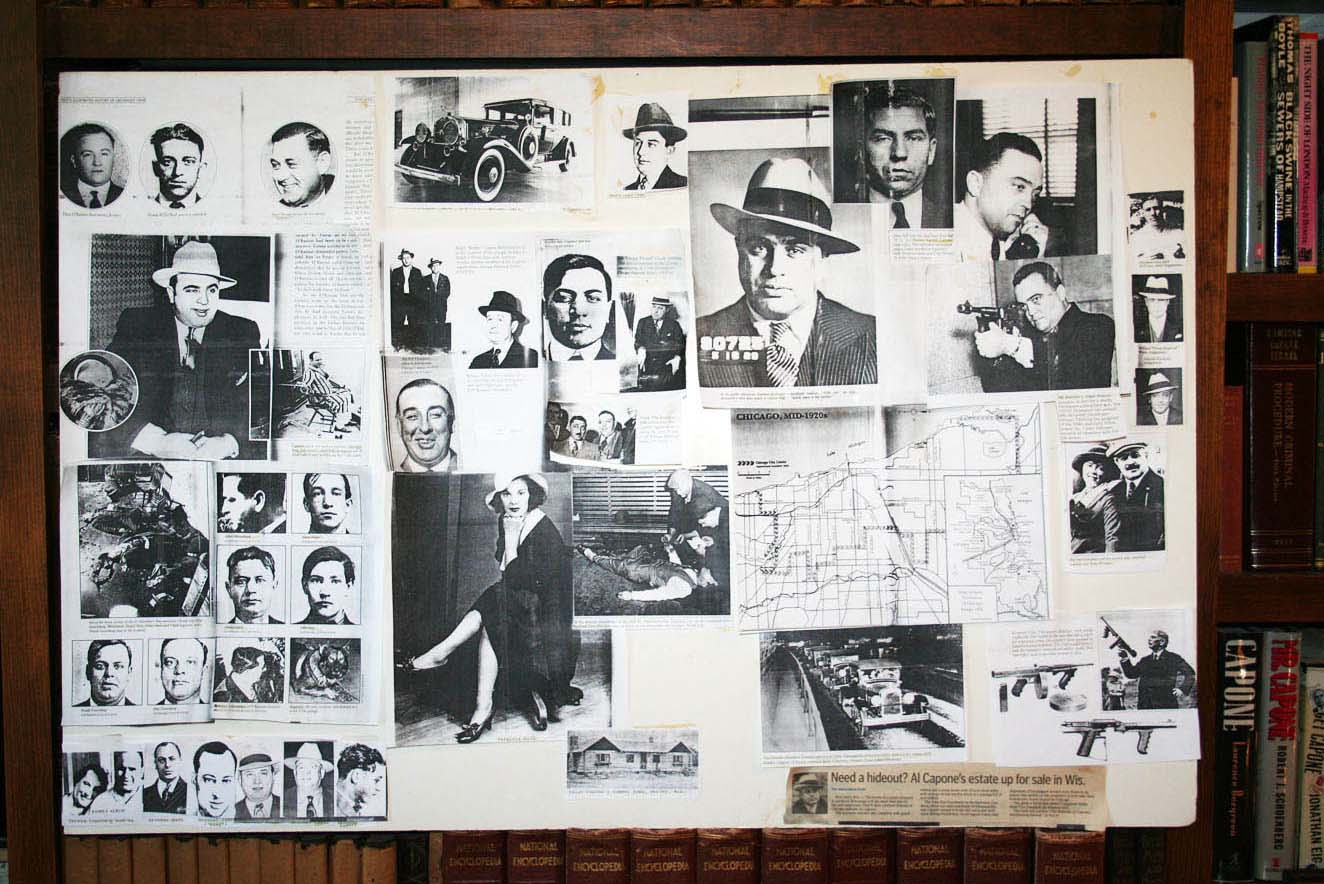 Estleman set up this "memory board" for quick reference.
It's a fair representation of the inside of his head all the time
he was writing The Confessions of Al Capone.

At 26, he was the most powerful crime lord in history.
He was barely 30 at the time of the St. Valentine's Day Massacre.
Click HERE to read
A Public Enemy Primer:
Little-Known Facts about Al Capone
by Loren D. Estleman
---
April 2013
ALIVE!
A Valentino Mystery
[ From Forge Books ]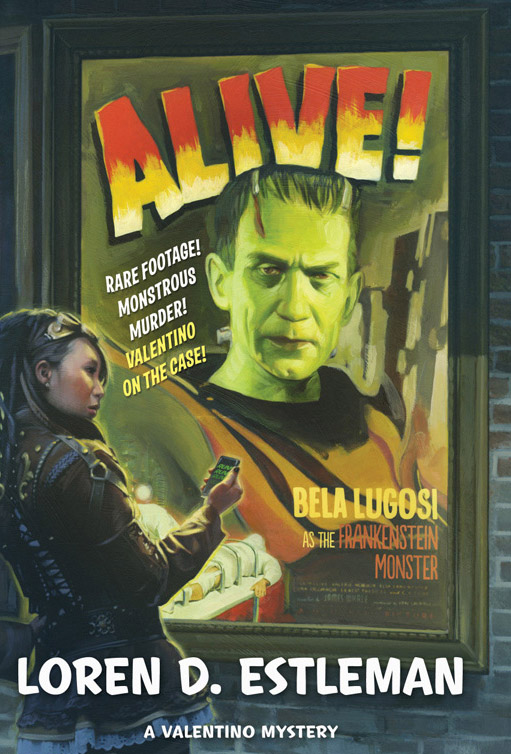 Bela Lugosi's Frankenstein screen test puts Valentino in the picture for murder
Everyone knows the Frankenstein monster was played by Boris Karloff. But before Karloff's memorable portrayal, another famous 1930s Hollywood icon, Bela Lugosi, tested for the part of the monster.
The screen test footage was lost for decades, until Valentino, that never-say-die film archivist, gets a hot tip about the whereabouts of the incriminating (for really bad, heavily accented acting) footage. But it comes with a price far greater than the money he'll have to pay. Someone would kill to get that reel of film, and that makes Valentino a mortal obstacle who would rather not die for art. People have already been murdered for the film, and Val doesn't want to push his luck…
but boy, that reel is too good to let go….
Enter a crew of steampunk fans. Loving the arcane strangeness that is Valentino's life—not to mention the completely glam prospect of seeing the original filmic Count Dracula as the Frankenstein monster—they will find a way to save Valentino and Lugosi's infamous screen test. Or if they can't do that, have a great party anyway.
Val just hopes it's not a wake.…
In Alive!, Loren D. Estleman delivers a mystery that only he can.
---
October 2012
THE PERILS OF SHERLOCK HOLMES
SHORT STORIES
[ From Tyrus Books ]
Authorized and licensed by
Estate of Sir Arthur Conan Doyle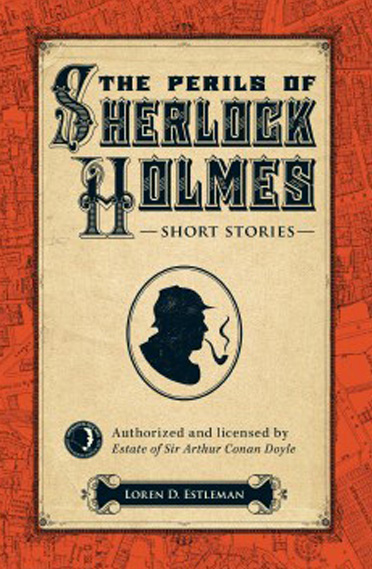 In this adventurous collection of Sherlock Holmes mysteries, readers will find themselves right by the legendary detective's side as he investigates a whole new series of crimes. While readers will recognize some of the stories, others like "The Serpent's Egg" are wonderful pieces they'll discover for the very first time.
Also includes three previously published essays, "Channeling Holmes," "On the Significance of Boswells," and "Was Sherlock Holmes The Shadow? (A Trifle)" that delve deeper into the daring world of Sherlock Holmes and the imaginative mind of Sir Arthur Conan Doyle.

---
June 2012

BURNING MIDNIGHT


The 22nd Amos Walker detective novel

Hardcover . ISBN 978-0765331205
From the Publishers Weekly Starred Review:
An unusual client hires Amos Walker in Edgar-finalist Estleman's outstanding 22nd novel featuring the Detroit PI (after 2011's Infernal Angels). Walker's longtime friend and professional ally, Insp. John Alderdyce "of the Detroit Police Homicide Division," is worried about his son's Mexican brother-in-law, Ernesto Pasada. Pasada has started hanging out in Detroit's Mexicantown with the Maldados, a gang "with a branch office in every city between here and Juarez" and no scruples about killing cops. Alderdyce wants Walker to somehow make the Maldados believe that keeping their hooks in Pasada is more trouble than it's worth. The inspector gives the PI a plausible cover story for poking around Mexicantown, but soon after Walker does so, the bodies start to fall. Estleman offers one of his cleverest solutions to the whodunit, which is no small achievement and another sign that his font of creativity remains full.


From the New York Times:
There's a carton of cigarettes in his desk, a bottle of Old Smuggler in his safe and a gun riding on his hip, which means that Amos Walker, proud relic of the grand old school of American noir fiction, is still in business. Loren D. Estleman's Detroit shamus shows his moxie in BURNING MIDNIGHT (Forge/Tom Doherty, $24.99) by venturing into the off-limits neighborhood of Mexicantown to extract a 16-year-old kid who has fallen in with a violent gang. As the private eye points out to the old friend who talked him into this assignment, it's really a job for Bruce Willis. Being a gentleman, Walker prefers to have a civilized sit-down with an elder statesman in the Mexican Mafia known as El Tigre del Norte. Hard-boiled gumshoes and venerable crime figures speak the same language, so many elaborate formalities are observed and much florid imagery is exchanged during the "delicate negotiations" held in the back room of the best eatery in Mexicantown. Every time you think no one's writing books like this anymore, along comes Estleman to restore your faith.

---
The Walker short story collection was 2nd on the Mysterious Bookshop 2010 Best List,
which appeared in Entertainment Weekly.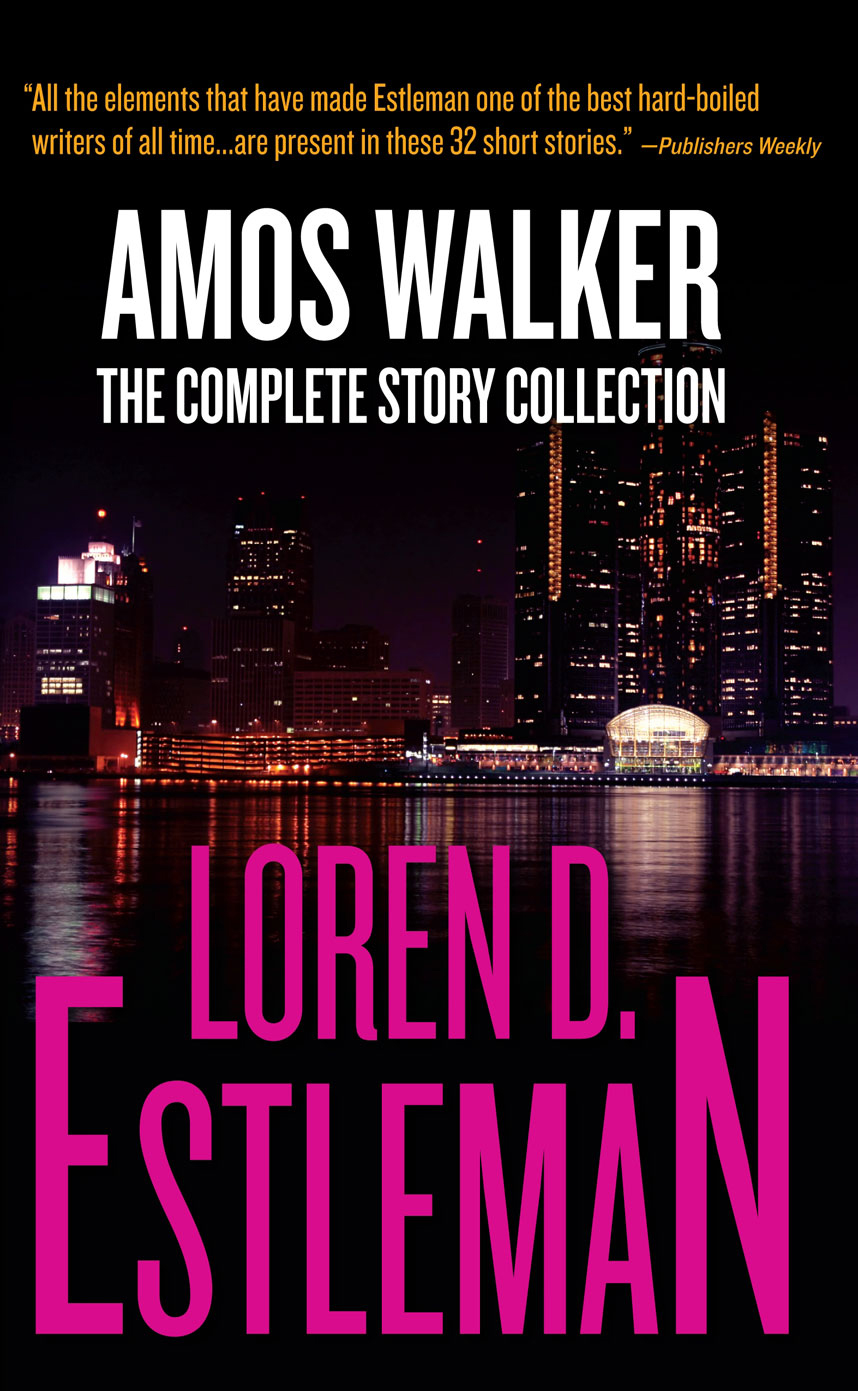 [ September 2010 ]

AMOS WALKER: THE COMPLETE STORY COLLECTION
Tyrus Books (Consortium, dist.), $32.95 (600p) ISBN 978-1-935562-24-5
In honor of Amos Walker's 30th anniversary (1980-2010), the author has compiled a mammoth 600-plus-page collection of all 31 Walker stories, with an introduction by Estleman and the new, never-before-published story, "Sometimes a Hyena."
From the Publishers Weekly Starred Review:
All the elements that have made Estleman one of the best hard-boiled writers of all time--just a notch below Chandler and Hammett--are present in these 32 short stories.
To read the full review, click here

From the Library Journal Starred Review:
Detroit's most famous gumshoe, Amos Walker, is back in this mammoth collection of short stories. The omnibus contains 32 tales, including the previously unpublished "Sometimes a Hyena," and flawlessly showcases Estleman's distinct and penetrating style.
To read the full review, click here

From the Bookgasm review:
AMOS WALKER: THE COMPLETE STORY COLLECTION is reason enough to not only celebrate, but finally acknowledge Estleman as one of the essential and influential authors of modern crime fiction, right up there with the likes of Ross Macdonald, Robert B. Parker and all the rest. It is essential reading.
To read the full review, click here

From the Booklist review:
Walker has a built-in audience of devoted fans; new readers who check out this sampler will be pleased to know they have 30 years of fine novels waiting for them.
To read the full review, click here