Who is Estleman?
Interested in more about the
man behind the words?
CLICK
What does
Estleman write?
MYSTERIES
AMOS WALKER SERIES
VALENTINO SERIES
PETER MACKLIN SERIES
DETROIT CRIME SERIES
OTHER CRIME FICTION
WESTERNS
PAGE MURDOCK SERIES
STAND-ALONE HISTORICAL
WESTERNS
OTHER WORKS
NONFICTION
What else can be found on this site?
AWARDS
LIST OF WHAT WON WHICH
BOOKS
COMPREHENSIVE LIST
SPATTERS
BITS & PIECES
[ news ]
Estleman's bibliomystery,
"The Book Club,"
is available at The Mysterious Bookshop and is a Mysterious Bookshop Original Short Story.


"The Book Club" is about the murder of a wealthy book collector and the elderly
bookshop owner who solves the crime.

Click here for the limited hardcover version (signed and numbered)
and, here for the paperback version


---
[ new books ]
May 2015
THE LONG HIGH NOON
[ From Forge Books ]
The tale of a running gun battle between two sworn enemies that spans half a century.
---
May 2015
DETROIT IS OUR BEAT
[ From Tyrus Books ]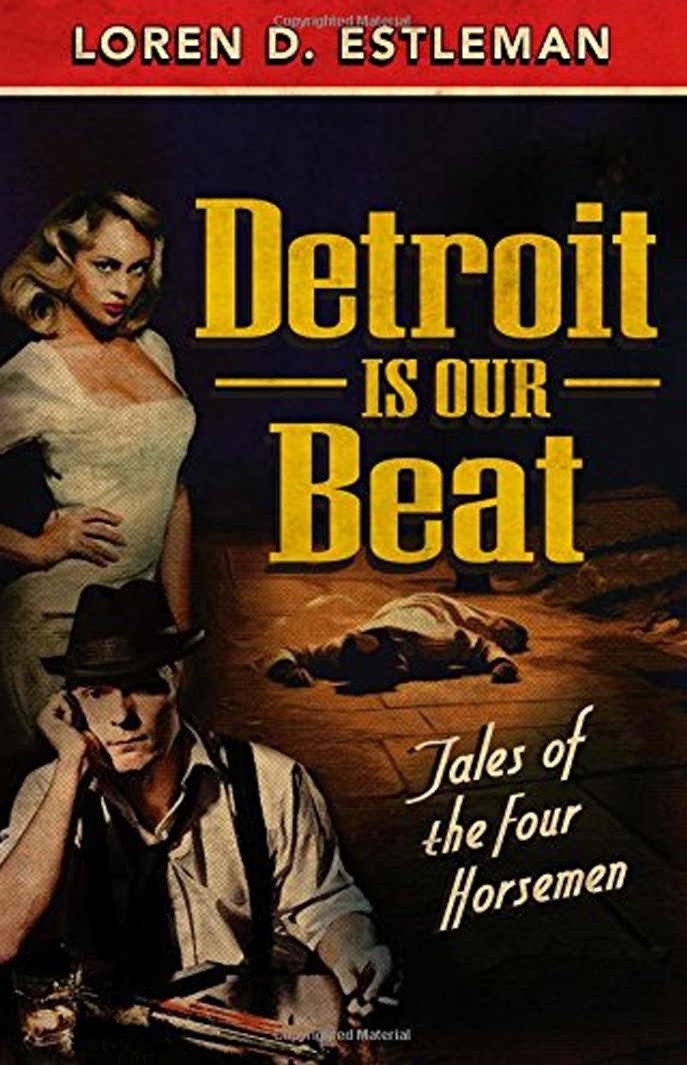 The place: Detroit. The time: World War II.
While most of the police department is fighting overseas, the four men of the Racket Squad
struggle to keep a lid on a powderkeg stuffed with draft-dodging troublemakers,
Black Market gangsters, enemy saboteurs, and a mixed bag of racial and ethnic groups
working uneasily side by side in defense plants run by the automobile industry. Ten gritty stories in the hardest-boiled town during the twentieth century's hardest-boiled decade.

---
December 2014
YOU KNOW WHO KILLED ME
[ From Forge Books ]
---
October 2014
THE PLATED SPOON AND OTHER TALES OF SHERLOCK HOLMES
SHORT STORIES
Edited by Loren D. Estleman
[ From Tyrus Books ]
Authorized and licensed by
Estate of Sir Arthur Conan Doyle