Where is Estleman, anyway?
Typically, he's at his
1950 manual typewriter
working on the next novel.
Otherwise, look for him
at events listed here:
Who is Estleman?
Interested in more about the man behind the words?
CLICK
FRAMES TRIVIA CONTEST
or
The Great Frames Movie IQ Test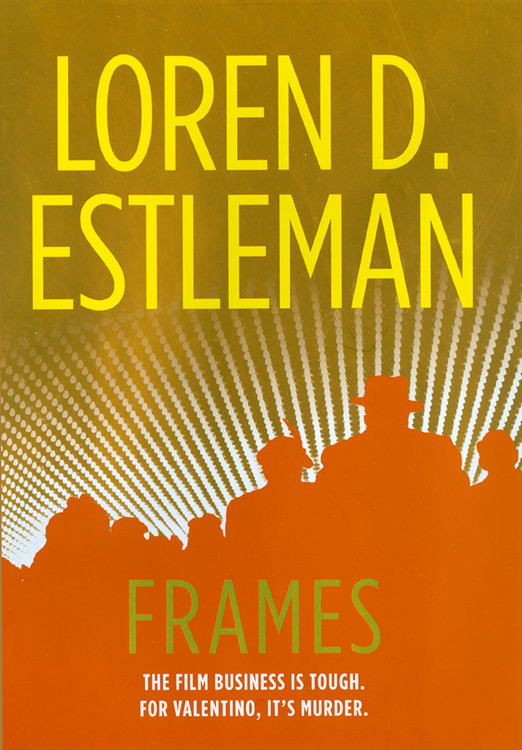 Trivia Contest Winner:
Daniel Edwards

Mr. Edwards was the only entrant who got all the answers correct. He'll receive an autographed first edition of Frames.

Thanks to everyone who participated!

(The answers are provided below.)

Trivia Contest Questions:
1. Who were the four great motion picture directors united during the filming of Sunset Boulevard (1950)?

2. What do these films all have in common: Yojimbo (1961), A Fistful of Dollars (1964), and Last Man Standing (1996)?

3. Name the only other film (besides Sunset Boulevard) in which Gloria Swanson and Erich von Stroheim were associated and the year in which any of its footage was first shown to the public.

4. Of the three films named in Question #2, which is most faithful to its literary source? How so?

5. What role do Clark Gable and Mickey Rooney have in common?

6. Name the original source material of Erich von Stroheim's Greed (1925).

7. Richard Greene appeared as Sir Henry Baskerville opposite Basil Rathbone's Sherlock Holmes in The Hound of the Baskervilles (1939). What other colorful character connects the two actors?

8. Identify the only actor menaced by all three of Universal Studio's great monsters: Count Dracula (Bela Lugosi), the Frankenstein monster (Boris Karloff), and the Wolf Man (Lon Chaney, Jr.).

9. What do these three very different actors have in common, apart from their line of work: Humphrey Bogart, Brooke Shields, Matthew McConaughey?

10. Which actor in the Gunsmoke TV series shared the screen with Bud Abbott and Lou Costello?
Trivia Contest Answers:
1. Billy Wilder (he directed), Erich von Stroheim (he played the butler), Cecil B. De Mille (he played himself), and Buster Keaton (he had a non-speaking role--fittingly--as a member of Norma Desmond's "human waxworks" bridge group.

2. All three films were inspired by Red Harvest by Dashiell Hammett. A Fistful of Dollars and Last Man Standing are both remakes of Yojimbo, which was the first film of the three to be made.

3. Queen Kelly (1928), directed by von Stroheim, starring Swanson. It was never completed. Although it was released on a limited run in Europe in 1929, it was not seen publicly in America until it appeared in Norma Desmond's screening room in Sunset Boulevard; thus it shared Sunset's 1950 premiere.

4. Last Man Standing is the only one of the three set in the same era as Dashiell Hammett's novel Red Harvest, which Akira Kurosawa adapted and transformed from an American gangster tale into a Japanese samurai film.

5. In Manhattan Melodrama (1934)--noted also as the last film John Dillinger saw before he was gunned down outside the theater--Rooney played Blackie as a boy, Gable as the man he grew up to be.

6. McTeague, Frank Norris's novel set in San Francisco around the turn of the twentieth century.

7. Robin Hood. Rathbone opposed him as Sir Guy of Gisborne, with Errol Flynn as Robin, in The Adventures of Robin Hood (1938); in the 1950s, Greene starred as Robin in the TV series The Adventures of Robin Hood.

8. Dwight Frye. As Renfield he served, then was slain by Dracula in Dracula (1931); as Fritz, he was strangled by the monster in Frankenstein (1931); as Rudi, he took part in the pursuit of the Wolf Man with his fellow Bavarian villagers in Frankenstein Meets the Wolf Man (1943).

9. There are two correct answers: (1) All three starred in films titled Sahara (Bogart 1943, Shields 1984, McConaughey 2005). The films are otherwise unrelated. (2) All three actors were former models.

10. There are two correct answers: (1) Glenn Strange, who played the monster in Abbott and Costello Meet Frankenstein (1948) and Sam, the bartender at the Long Branch, in Gunsmoke from 1962 until his death in 1974; and (2) Milburn Stone, who appeared with Abbott and Costello in Buck Privates Come Home before his long-running stand as Doc in Gunsmoke.

Return to index: CLICK
© 1998-2009 All rights reserved
Web site and banner design by Deborah Morgan
Split Personality logo by Loren Estleman. All rights reserved.